We wish you a pleasant stay at MTP Poznań Expo.
MTP Poznań Expo 
is located on Głogowska Street, in the city centre. Therefore, all important city points are at your fingertips. Several large hotels are located in the immediate vicinity of the fairgrounds. You can reach the railway station on foot in just 5 minutes. Ławica Airport is in turn located at a distance of 7 km.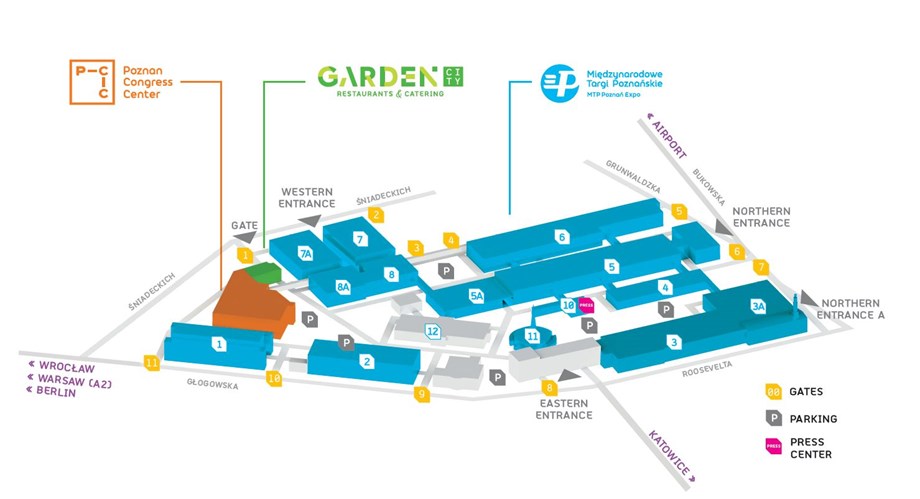 First aid
If health or life of people present on the grounds of MTP Poznań Expo is threatened, please contact:
MTP emergency phone:

 

+48 61 869 2112

 


Security Department Guardroom
Trade Fair Information: marked by "I" on the MTP map
phone:

 

+48 61 869 2000
General emergency phone:

 

112
Ambulance:

 

999
First aid is provided on the MTP Poznań Expo by the Medical Rescue Team. During trade shows, it its stationed at the Security Department Guardroom (next to the Pavilion 11).
Internet Wi-Fi
We encourage you to use the Wi-Fi Internet access service on MTP fairgrounds. The service is particularly recommended for participants in fairs and events, conferences and congresses organized by MTP. Access to the service is free.
How to log in?
Start Wi-Fi on your device
Choose the wireless network

 

MTP FREE WI-FI.
Open any web browser and try to open any website (if the login window does not appear automatically, type e.g. www.example.com)
Choose "Registration" and fill out a short form, and you will receive a login and password on the phone number you provided.
Log in and use the free MTP * network.
* You can use the login and password on two devices at the same time.
>>> Regulations <<<
Taxi
Our guests can use taxis from the "Radio Taxi 519" corporation (tel. +48 61 519 8 519 8 519 or 61 628), which are granted entry to MTP fairgrounds. Taxis can be ordered from any place in Poznan to get directly to the halls on MTP fairgrounds.
The cheapest, safest and most comfortable way is to order a taxi. This guarantees honest prices and short waiting times. The following corporations offer free-of-charge arrival at the customer's location.
Poznan Association of Taxi Drivers +48 61 8519-519
Radio Taxi RMI FM – Poznań +48 61 8219-219
Cash machines
The following cash machines are located in the direct neighbourhood of Poznań International Fair:
PKO SA, ul. Głogowska 26,
PKO BP, ul. Głogowska 10,
A cash machine is also located at the Main Station (Dworzec Główny), which is in front of MTP Poznań Expo.
Withdrawal of cash while shopping is now available on MTP fairgrounds in MTP Cafe points.
To take advantage of the cashback service you just need to have a debit card, make a small purchase and indicate that you want to withdraw cash before the card transaction. The checkout assistant will settle the purchase and then will withdraw the amount requested by you. The transaction is confirmed using the PIN code assigned to the card and is settled in a separate receipt. 
Withdrawal limits and transaction fees depend on the individual contracts with the bank.
Facilities for the disabled
We are doing our best to make Poznań International Fair a disabled-friendly place. We install lifts and driveways wherever possible, so that the persons on a wheelchair could easily move around the whole fairgrounds. Most of our toilets located in the exhibition halls are also adjusted to the needs of people with limited walking abilities.
All our main entrances have vast doors which allow for easy entrance of a person on a wheelchair.
Blind persons accompanied by a guide dog may be certain that they will be welcome here. However we would like you to take into consideration the fact that the level of loudness at some events may be high enough to cause discomfort in an animal.
We also encourage to use the tab "How to get here" to find out what is the easiest way to arrive at the Fair. The majority of buses in Poznań , just like trains, is adjusted to the needs of people on a wheelchair.
Waiting in a queue to a ticket office may be bothersome. We encourage you to purchase tickets earlier using the tab "Tickets".
We know that there is always something more that can be done. If you are a disabled person or a caregiver of a disabled person and have any questions – do send us an email info
 or call us! (+48 61 869 2000) 
Regulations
How to reach us: